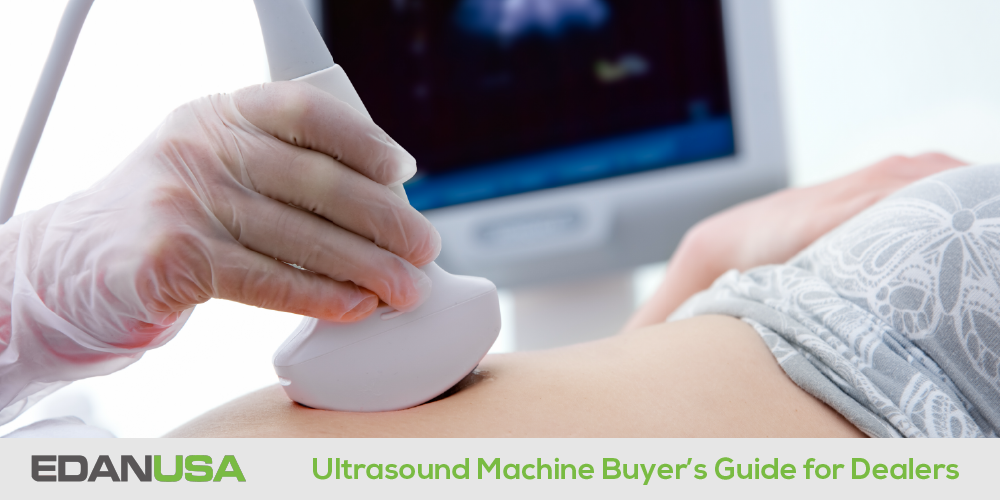 Introduction to Ultrasounds
Diagnostic ultrasounds take images and measurements of a patient's blood vessels, soft tissue, tendons, muscles, pelvic organs, and more. Nowadays, ultrasound is used not only in large hospitals but also in smaller facilities, offices, and clinics.
To help our dealers and prospective dealers determine which ultrasound is right for their clientele, EDAN USA has created an "Ultrasound Machine Buyer's Guide for Dealers". 
What are Ultrasounds Used For?
Ultrasounds are often used to:
Needle Guided procedures 

Evaluate blockages, narrowing of vessels, tumors, malformations, and more

Examine internal organs such as

Heart and blood vessels

Liver

Gallbladder

Spleen

Pancreas

Kidneys 

Bladder

Reproductive organs

Eyes 

Thyroid and parathyroid glands
What branches of Medicine Utilize Ultrasounds?
Many branches of medicine use diagnostic ultrasound machines. These systems are most commonly used in the following fields: 
Anesthesiology 

Angiology 

Cardiology 

Emergency Department

Gastroenterology 

Gynecology and Obstetrics

Otolaryngology

Neonatology 

Ophthalmology 

Pulmonology 

Urology 

Musculoskeletal 
Understand Your Customer Base
The first step in the buying process is to understand your customers and their needs. For example, if you usually sell to a large hospital with a variety of patients, you may want to consider recommending a console ultrasound with accessories such as heavy-duty trolleys with multiple transducer ports. On the other hand, if some facilities that would benefit from a console ultrasound might not have the budget to buy one. It is also important to consider how many probes the clinician plans on using. If the clinician plans on switching between probes during a procedure they will need additional transducer ports, which will narrow down the type of ultrasounds you can recommend. Knowing your customer base will help ensure that you pitch the right ultrasound system to fit your customer's needs and budget. Below, we have specified a few key areas to consider when determining your customer base.
Customer Facility-Type
Here, we will break down the best ultrasound type for each facility, including home care, offices, small clinics, emergency rooms, specialty offices/clinics, and large hospitals.
At-Home Care
Hand-Held Ultrasounds
Laptop Ultrasounds
Bladder Scanners
Even though bladder scanners have a different name, they function like a typical black and white ultrasound but are easier to use and do not require a trained sonographer. 
Small Offices
Tablet Ultrasounds
Laptop Ultrasounds
Small Clinics
Tablet Ultrasounds
Laptop Ultrasounds
Console Ultrasounds
Emergency Departments
Hand-Held Ultrasounds
Laptop Ultrasounds
Specialty Offices/Clinics
Laptop Ultrasounds
Console Ultrasounds
High-Volume/Large Hospitals
Customer Budget
Below, we have created a guide on the different levels of ultrasounds and their average price to help you understand how your customer's budget will affect the type of ultrasound you sell.
Other Competitors
Entry-Level
New $25,000 – $50,000
Refurbished $15,000 – $25,000
Mid-Range
New $50,000 – $65,000
Refurbished $25,000 – $50,000
High-End
New $65,000 – $100,000
Refurbished $50,000 – $65,000
Premium
New $100,000+
Refurbished $65,000+
EDAN USA
Entry-Level
New $5,000 – 9,000
Refurbished $4,000 – $8,000
Mid-Range
New $12,000 – $16,000
Refurbished $10,000 – $14,000
High-End
New $20,000 – $30,000
Refurbished $15,000 – $25,000
A Closer Look at the Different Types of Ultrasounds
Color vs. Black and White
Ultrasounds are available with either color or black and white viewing options. Color ultrasounds are needed for vascular/cardiology imaging and are commonly used to evaluate blood flow. Meanwhile, ultrasounds with a black and white display are typically used for basic needle guide injections.
Hand-Held
Hand-held ultrasounds are especially useful in Emergency Department settings for quick needle guidance, quick checks for internal bleeding, and other high-priority checks. Nowadays, these types of ultrasounds are usually wireless and display the ultrasounds directly to a tablet or phone. 
Tablet
Tablet ultrasounds are best for small clinics or offices that focus on basic ultrasound imaging because they are less customizable and offer less penetration. This type of ultrasound also requires either a rolling stand, wall mount, or tabletop stand.
Laptop
Laptop ultrasounds are an extremely popular choice for most facility types. These ultrasounds can be customized, although not as much as console ultrasounds, and have good image quality. Historically, they are a more budget-friendly option for facilities that require portability while maintaining quality.
Console
Console ultrasounds are the ideal choice for larger facilities, facilities with a high volume of patients, and facilities needing a highly customizable ultrasound. These systems are larger and the most expensive. However, they provide the best image quality and are highly customizable.
Ultrasound Accessories
Transducers (Probes)
Below you will find a list of the typical transducers customers will ask for. It is important to note that these are only general types of probes. These probes will come in a variety of different footprint/radius and frequency/bandwidth options. For example: 
L742UB
Type
Linear
Footprint/Radius
38mm
Bandwidth (-20dB)
3-12 MHz
Scanning Depth
30-130mm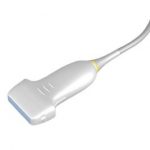 L1042UB
Type
Linear
Footprint/Radius
38mm
Bandwidth (-20dB)
4-15.5 MHz
Scanning Depth
20-110mm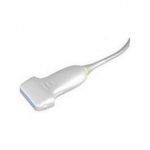 L552UB
Type
Linear
Footprint/Radius
50mm
Bandwidth (-20dB)
2.5-8.5 MHz
Scanning Depth
20-160mm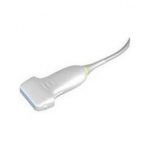 L15-7B
Type
Linear
Footprint/Radius
38mm
Bandwidth (-20dB)
5-18.5 MHz
Scanning Depth
30-110mm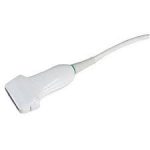 Additionally, some probes will be cross-compatible between a few units. Please reach out to your sales rep with any questions or for specific unit probe sheets.
Linear (Vascular, MSK, Small Parts)
Linear probes are used to scan shallow structures or small parts of the body.
Convex (OBGYN, Abdomen, Urology)
Convex, also called curved linear, probes allow for a larger field of view and are most commonly used on the abdominal.
Microconvex (Pediatric, Vet)
Microconvex probes are a subtype of convex probes. They are typically used for pediatric and veterinary examinations.
Phased Array (Cardiac)
Phased array probes are able to reach a greater depth and are primarily used on the heart.
Endocavity (OBGYN, Urology)
Endocavity probes are used to scan the inside of the body. These probes usually do not have a great range of depth but do allow for a large field of view.
Transesophageal (TEE, Echo)
Transesophageal probes are inserted through the patient's mouth and into the abdomen. They are remote controlled and help provide images of the heart.
3D/4D (OBGYN)
3D/4D probes are similar to 2D probes but feature a moving array inside the probe. This moving array captures images from different sides to produce a 3D still image or 4/D live image. 3D/4D probes are commonly used for fetal echos.
Other Accessories
Other accessories your customers might request include: 
Cart/Trolley

Transducer Holder

Needle guide brackets

Gel

Printer

Footswitch
Having some of these accessories on hand can help increase the potential of a sale. 
Ready to Become an Ultrasound Dealer?
We hope our guide has helped you on your journey to becoming an ultrasound dealer. To become an EDAN USA dealer call the EDAN USA team at 888-850-4597 or email info@edanusa.com!