Description
The Edan SE-1200 Express Basic (EB) Machine boasts exceptional cost performance with both accurate clinical performance as well as user-friendly design. It is equipped with a comprehensive Alphanumeric keyboard as well as a practical one-touch operation with both age and gender shortcuts. It features an 8″ LCD display for the optimal examination of results, and sleep mode to lengthen LCD life as well as conserve energy. The Edan SE-1200 EB is outfitted with a built-in, rechargeable Li-ion battery, and WIFI capability to transmit data.
To assist in your diagnosis, the Edan SE-1200 EB has 120 second real-time ECG waveforms freezing and review, as well as the ability to extend printing once an arrhythmia is detected. The Edan SE-1200 EB also is equipped with automatic measurements and interpretation tested by the CSE/AHA/MIT database.
The Edan SE-1200 EB has the ability to record twelve ECG traces and print these records with a built-in high-resolution thermal printer on both normal thermal paper and A4 size fax paper.
The Express Basic has an internal memory of 800 ECGS with an onboard PDF creator. Easily create reports to drag and drop into an EMR or use the optional SE-1515 PC software for additional data management.
Shortcut Keys & One-Button Operations
The SE-1200 offers a series of shortcut keys for quick access to commonly
used functions and one-button operations for quick sampling or analysis.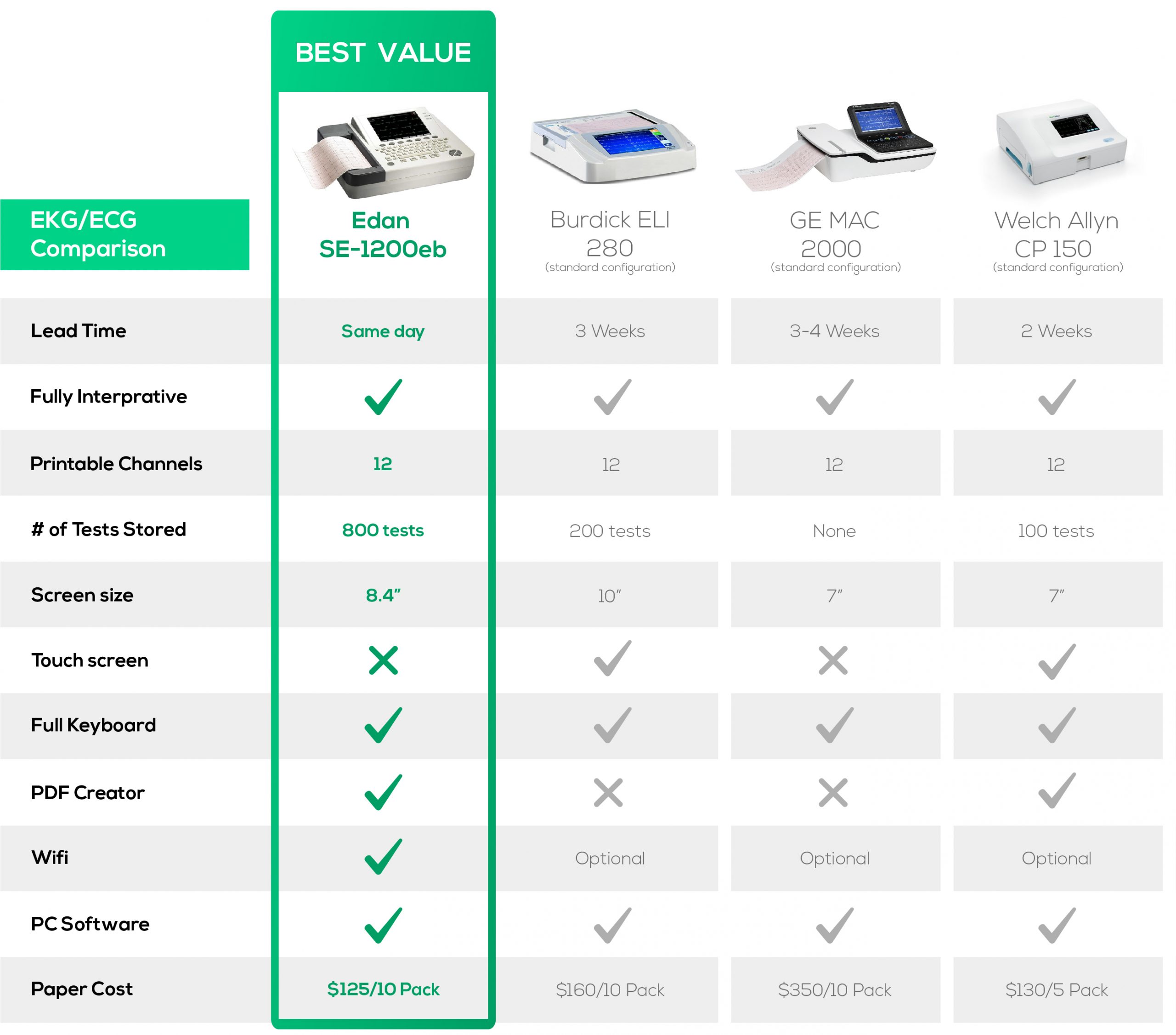 Commonly Asked Questions
The Edan SE-1200eb EKG Machine includes a 2-year warranty on the main unit and a 1-year warranty on all accessories.
Yes! The Edan SE-1200eb EKG Machine has Glasgow interpretation. Glasgow interpretation is one of the most accurate forms of interpretation in the medical device industry.